Our Mission
ManUp Iowa was founded with a purpose of serving as a community resource, and as an alternative approach to typical practices targeting male youth who may be at risk of academic failure and or delinquency matters.
With a foundation deeply rooted in prevention and a program model emphasizing innovation and evidence based practices, ManUp Iowa Mentors effectively empower each program mentee with the values, skills, and support needed to prepare them for manhood successfully.
At ManUp Iowa we believe every boy is born with the ability to play an exponentially important and diverse role within society. We also believe that they are deserving of an opportunity that successfully prepares them for manhood. It doesn't matter what they may look like, or where they may live, and certainly not how many resources their family may or may not have.
Similarly, we believe that by educating young men with the values and skills correlated with making positive life choices in the real world, youth who've struggled in the past and who've been deemed the terms "broken, at risk, and disadvantaged", are able to rise up and transform into healthy, respectable and successful young men. More importantly, however, we believe in the strength of our community and understand we must unite together to solve the manhood crisis before any more damage is done.


Targeting
ManUp Iowa Programming is designed to specifically target pre-adolescent, adolescent and teenage male youth who are between the ages of 7 and 17, and who may be at-risk of academic failure, delinquency matters, or both.
Diversity
Although the program is specialized to serve youth with specific issues, the program opens its doors to youth with a wide range of needs, including those who may benefit from access to a positive male role model and a pro-social environment. The program also puts strong emphasis on serving minority youth due to the importance of the State of Iowa to address disproportionality factors within its criminal justice system.
Method
Our programming includes individualized experiences customized for groups of 2-4, weekly small groups, large group meetings which occasionally host a guest speaker, special outing events, and finally a graduation ceremony.
Voluntary
ManUp Iowa Programming is strategically designed to be 100% voluntary for all of its participants. When youth are initially referred, they are "highly encouraged" to attend two weeks (2 groups), and may have the option of continuing from there. The proposed statement is supported by three years of data that suggests when the option is voluntary, 8.5 out of 10 youth will choose to continue after two weeks; and on average, they will participate in the program for a total of 225-300 days. Historically, the voluntary option has led to higher success rates versus when youth are referred via court order.
Days/Times
Monday, Ages 9-13 (Programs 1-2) McCombs Middle School & MAC
Mentoring session 2:35-4:00 pm
Personal Responsibility Education Program 11:45 am – 1:45 pm
Tuesdays, Ages 9-12 (Program 3) Next Step Counseling Services
Therapy group: 3:30-4:30pm
Mentoring session: 4:30-5:15pm
Wednesday, Ages 9-12 (Program 4) Hoyt Middle School
Mentoring session: 1:00 – 2:15 pm
Thursdays, Ages 13-17 (Program 5) Next Step Counseling Services
Therapy group: 3:30-4:30pm
Mentoring session: 4:30-5:15pm
Friday's, Ages 10-13 (Program 6) Next Step Counseling Services
Therapy group: 3:30-4:30pm
Mentoring session: 4:30-5:15pm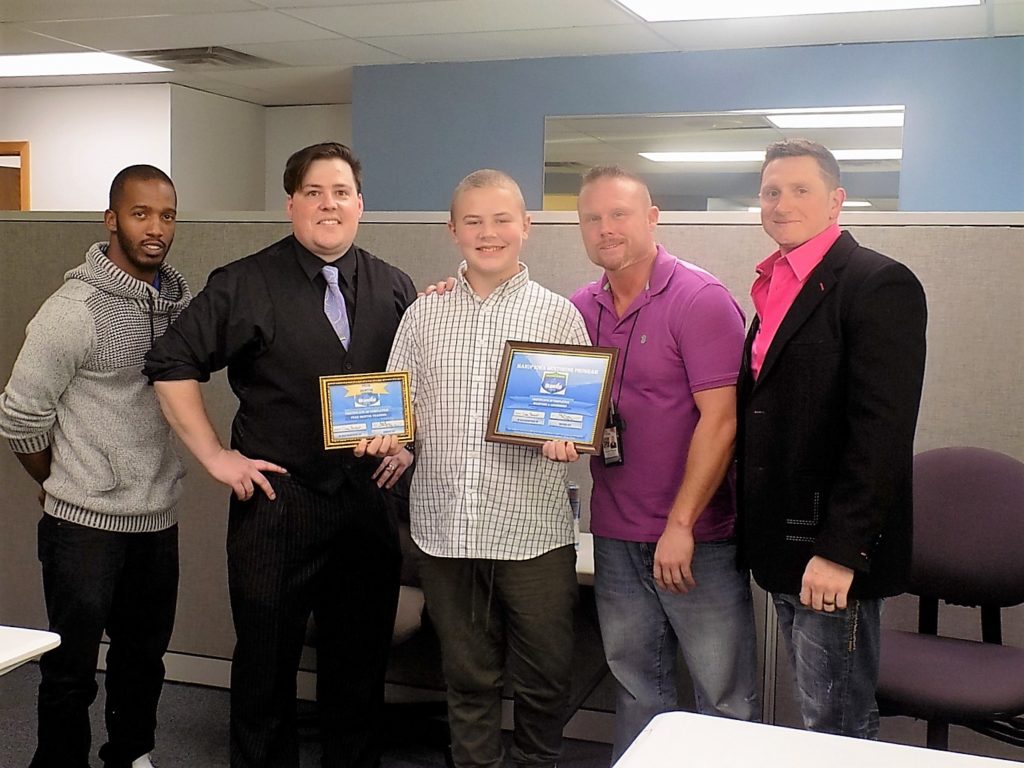 Our Team
Mentors
Zach Smith
Dr. Mike Bell
Alex Sandusky
Dr. Ben Bell
Directors
Dr. Mike Bell
Mike Koch MSW LISW
Colin Farley MSW LISW
Evan Hoyt
Zach Smith
ManUp Iowa Mentoring INC 501(c)3
ManUp Iowa Mentoring INC is a non-profit 501(c)3 organization based out of Polk County, Iowa. If you are interested in donating to help the ManUp Iowa Mentoring Program achieve its goals and serve more youth on our wait list, please consider clicking the "donate" tab below. Or you can send a check to our mailing address: *All donations are tax deductible and donors will receive a donor receipt and thank you in the mail.
Mailing address:
ManUp Iowa Mentoring INC., PO BOX 65575 WDM, IA 50265.

---
---
Support
Become a mentor
Become a financial donor
Sponsor a youth
Become a corporate sponsor
Cook dinner or donate food that will provide food to participants during either a weekly mentoring meeting, special event, or a graduation ceremony. Note: All youth are provided a lunch, snack or dinner during every ManUp activity
Donate pre-paid gas cards. The gas cards will be given to parents of participants to help pay for gas so that they may drive their son to activities
Donate other gift cards to be used as incentives or gifts for youth and or the family members of youth
Donate tickets to Iowa Cubs games or other events to help support ManUp Iowa Quarterly Special Events
Contact us anytime!
Want to join? Have more questions?